Doc McStuffins Season 1 Episode 22
0
(No Ratings Yet)
Loading...
Stream in HD
Download in HD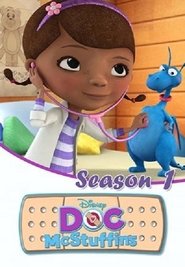 Doc McStuffins Season 1 Episode 22
Donny's toy truck, Tremaine, learns how to keep still to get repainted.
Song: Keep Still
Episode Title: Keep on Truckin'
Air Date: 2012-04-05
Year: 2012
Eps46
Ah! My Goddess
Ah! My Goddess
Keiichi Morisato is looking forward to university life. But in reality, he has no luck in anything, and he has trouble with clubs, love, etc. The truth is that he has an unlucky star above his head. One day, Keiichi is stuck watching the dorm while his sempai are away, and has a mountain of chores to do to boot. But Keiichi is a good-natured person, and is set about doing his duties. As he is about to finish his final chore, he makes a phone call to his sempai….
Status: Ended
Eps12
Yamada's First Time: B Gata H Kei
Yamada's First Time: B Gata H Kei
OMG! There's this girl at school, Yamada, who wants to make like a hundred sex friends. She totally thinks she can devirginize one hundred different boys! Can you believe that? That's like every boy in the school. Who does she think she is? I heard from my friend's neighbor's cousin's lab partner that Yamada's never even been kissed. Oh. My. God. I would totally die. That's like burn all your makeup and shave off your eyebrows embarrassing. I can't even think about it. Today at lunch I saw Yamada flirting,…
Status: Ended
Eps9
Titan Maximum
Titan Maximum
Titan Maximum is an American stop motion animated television series created by Tom Root and Matthew Senreich. The series premiered on Cartoon Network's late night programing block, Adult Swim, on September 27, 2009, and was canceled after only one season. A teaser premiered during the "Robot Chicken on Wheels" tour and at the 2009 San Diego Comic-Con International. It is a parody of the "Super Robot" anime style produced using stop motion animation. KissAnime Review: Titan Maximum is the most beautiful TV show of year 2009 Most TV series, even…
Status: Ended
Eps56
Wow! Wow! Wubbzy!
Wow! Wow! Wubbzy!
Wow! Wow! Wubbzy! is an American educational animated children's television show created by Bob Boyle. The series is animated in Toon Boom and Adobe Flash software, produced by Bolder Media, and Starz Media. Bob Boyle, Susan Miller, Mark Warner, and Fred Seibert-Warner are the executive producers. The pop rock music is performed by Brad Mossman, and the musical score is composed and conducted by Mike Reagan. The series premiered on August 28, 2006 in the United States on Nick Jr. The second and final season debuted on September 1, 2008…
Status: Ended
Eps28
Panty & Stocking with Garterbelt
Panty & Stocking with Garterbelt
Panty & Stocking with Garterbelt is a Japanese anime television series produced by Gainax. It aired nationwide, in Japan, between October 2, 2010 and December 25, 2010 on BS Nittele and was also simulcast on Nico Nico Douga and Crunchyroll. It was also syndicated terrestrially in eight markets, including a few JAITS members like Tokyo MX, and TVQ, a TXN affiliate. The series has been licensed by Funimation Entertainment for distribution in North America and was released on DVD on July 10, 2012. Manga Entertainment also released the series in…
Status: Ended
Eps46
Mushi-Shi
Mushi-Shi
They are neither plants nor animals. They differ from other forms of life such as the micro-organisms and the fungi. Instead they resemble the primeval body of life and are generally known as "Mushi". Their existence and appearance are unknown to many and only a limited number of humans are aware of them. Ginko is a "Mushi-shi" who travels around to investigate and find out more about the "Mushi". In the process, he also lends a helping hand to people who face problems with supernatural occurances which may be related…
Status: Ended
Eps46
Rage of Bahamut
Rage of Bahamut
Two thousand years ago, the black-and-silver-winged dragon, Bahamut, terrorized the magical land of Mistarcia. The humans, god, and demons that inhabited the land united forces against the fiend and sealed its power into a key which was split in two, one half protected by gods and the other protected by demons. Now, Mistarcia is a peaceful realm – until a human woman steals the god's half of the key. Based on the immensely popular digital card game, Rage of Bahamut: Genesis is an exciting blend of action and fantasy. KissAnime…
Status: Returning Series
Eps12
Crystal Blaze
Crystal Blaze
The stage is the Middle East in a not too far away future: in Rags Town, a city full of scum. A carefree detective named Shun is living in this city, doing what he pleases. But one day he meets a beautiful girl who's lost her memory, and he tries to solve her mystery without knowing that this would change his life and make him face a powerful enemy. KissAnime Review: Crystal Blaze – brilliant TV series, one of the best of its category Crystal Blaze is by far the…
Status: Ended
Eps156
PJ Masks
PJ Masks
Connor, Greg and Amaya are normal kids by day, but at night they activate their bracelets, which link into their pajamas and give them fantastic super powers, turning them into their alternate identities: The PJ Masks. The team consists of Catboy (Connor), Gekko (Greg) and Owelette (Amaya). Together, they go on adventures, solve mysteries, and learn valuable lessons. KissAnime Review: PJ Masks – fantastic TV series. The best TV series online? This is an answer that has changed many times in my life and will probably change more often, but…
Status: Returning Series
Eps52
Captain Tsubasa
Captain Tsubasa
The passionate story of an elementary school student whose thoughts and dreams revolve almost entirely around the love of soccer. 11-year-old Tsubasa Oozora started playing football at a very young age, and while it was mostly just a recreational sport for his friends, for him, it developed into something of an obsession. In order to pursue his dream to the best of his elementary school abilities, Tsubasa moves with his mother to Nankatsu city, which is well-known for its excellent elementary school soccer teams. But although he was easily the…
Status: Ended
Eps12
SAINT SEIYA: Knights of the Zodiac
SAINT SEIYA: Knights of the Zodiac
Seiya and the Knights of the Zodiac rise again to protect the reincarnation of the goddess Athena, but a dark prophecy hangs over them all. KissAnime Review: SAINT SEIYA: Knights of the Zodiac is one of the biggest surprises of the year 2019. It is a pleasure for me to have a good TV series, a few intelligent speakers, and these collective speeches reveal the central idea of the TV show. It's really hard to distinguish the good from the good. Best of all, you need to find out what…
Status: Returning Series
Eps39
Hanasakeru Seishōnen
Hanasakeru Seishōnen
Hanasakeru Seishōnen is a manga series written and illustrated by Natsumi Itsuki. Set in the modern era, the story follows the path to romance of fourteen-year-old Kajika Burnsworth, daughter of powerful industrialist Harry Burnsworth, owner of the Burnsworth international conglomerate giant. Kajika agrees to participate in a "marriage game" with her father, in which she must select her future husband out of three men that her father has supposedly preselected for her. Despite its shōjo-romance undertones, the story itself evolves as a power political mystery involving a small, southeast Asian…
Status: Ended