Doc McStuffins Season 1 Episode 3
0
(No Ratings Yet)
Loading...
Stream in HD
Download in HD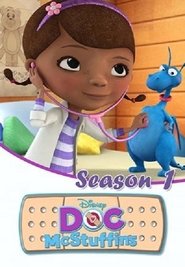 Doc McStuffins Season 1 Episode 3
Little Jack, a jack in the box, can't pop, but he's scared of getting a check-up, so his dad, Big Jack, goes first.
Song: Pop Up
Episode Title: Out of the Box
Air Date: 2012-03-23
Year: 2012
Eps32
Ahiru no Sora
Ahiru no Sora
A stout, weak, yet highly passionate Sora Kurumatani enters Kuzuryuu High School with hopes that he'll fulfill his mother's wishes to dominate his first high school tournament. However, the basketball club—turned den for delinquents—does anything but play basketball! Its club members, Momoharu Hanazono, a skilled blocker who can do power jumps but is horrible at shooting, and his twin brother Chiaki, a talented point guard, has also lost interest in the sport. With just one game overwhelmed with adrenaline rush and excitement, and Sora's pure love for the game, the…
Status: Returning Series
Eps39
The Ricky Gervais Show
The Ricky Gervais Show
The Ricky Gervais Show is an American cartoon series produced for and broadcast by HBO and Channel 4. The series is an animated version of the popular British audio podcasts and audiobooks of the same name, which feature Ricky Gervais and Stephen Merchant, along with colleague and friend Karl Pilkington, talking about various subjects behind the microphone. The TV show consists of past audio recordings of these unscripted "pointless conversations," with animation drawn in a style similar to classic era Hanna-Barbera cartoons, presenting jokes and situations in a literal context….
Status: Ended
Eps13
Say "I Love You."
Say "I Love You."
Friends suck, and trusting someone is just setting yourself up. That's the lesson Mei Tachibana learned after her heart was ripped out and only a shell was left where a girl used to be. But unlike so many, she found an easy solution: she'll never make another friend. Ever. Okay, maybe that's not as easy as it sounds, but it's worked for Mei. Or at least it did. Until handsome, charming and annoyingly popular Yamato Kurosawa came along. Because for some freakish reason, he seems to like Mei. He even…
Status: Ended
Eps42
Fate – Kaleid Liner Prisma Illya
Fate – Kaleid Liner Prisma Illya
Illyasviel von Einzbern is an ordinary elementary school student who becomes a magical girl when the magical Kaleidostick Ruby deems her a more suitable master than the sorceress, Rin Tohsaka. Rin, who had been tasked by the wizard Zelretch to collect the seven Class Cards containing the spirits of Heroic Spirits from legend, finds that she is unable to change Ruby's mind and must supervise Illya in completing the task of collecting the Class Cards. During Illya's adventures, she receives a friend and rival in a girl named Miyu, the…
Status: Ended
Eps69
Yo Gabba Gabba!
Yo Gabba Gabba!
Yo Gabba Gabba! is an American children's television show that airs on the Nick Jr. cable network in the United States and the Nick Jr. networks in the United Kingdom & Ireland, Italy, France and Australia as well as Treehouse TV network in Canada and RTE2 on RTÉjr in Ireland. The show stars five costumed toys-come-to-life and their friend DJ Lance Rock, who explore a single topic in each episode through songs and short storylines in the half-hour program while teaching children life and social skills. It also encourages viewers…
Status: Ended
Eps109
Archer
Archer
Sterling Archer is the world's most daunting spy. He works for ISIS, a spy agency run by his mother. In between dealing with his boss and his co-workers – one of whom is his ex-girlfriend – Archer manages to annoy or seduce everyone that crosses his path. His antics are only excusable because at the end of the day, he still somehow always manages to thwart whatever crises was threatening mankind. KissAnime Review: I've seen this whole TV show again this week and this TV show is really amazing. Archer…
Status: Returning Series
Eps52
Pinky Dinky Doo
Pinky Dinky Doo
Pinky Dinky Doo dances her way into her Story Box to tell stories and solve problems using her big imagination and fancy words. KissAnime Review: This TV series is one of my favorite TV show the last time and I know I'll be watching it soon again. I accept that my expectations are very low before I see this TV show. I know it gets a lot of stick for being the mainstream popular TV series, but honestly I can not think of anything wrong with the TV series online….
Status: Returning Series
Eps51
The Law of Ueki
The Law of Ueki
The story starts out with the Battle of the Supernatural Powers, a tournament to decide who will be the next god. Each candidate is required to choose a junior high school student to act as their fighter. The student is given a unique power and told to eliminate as many enemies as possible. The winning God Candidate will become the new god of heaven and the winning student will receive a talent that can be anything they choose. While this leads many students to thoughts of greed and selfishness, Kosuke…
Status: Ended
Eps150
Waybuloo
Waybuloo
Waybuloo is a pre-school British and Canadian children's television series originally created by Dan Good and Absolutely Cuckoo. It was commissioned by Michael Carrington at the BBC, and first aired on CBeebies in May 2009. The 100-episode show was Head-Written by Marc Seal, filmed by the Foundation in Glasgow and animated and directed by Gallus Entertainment for Decode Entertainment. Post production, including audio, sound design & editing is done by Platform Post Production. in Toronto. Line produced by Matt Porter and the series producer is Simon Spencer, part of the…
Status: Ended
Eps50
Kenichi The Mightiest Disciple
Kenichi The Mightiest Disciple
Kenichi is always getting picked on and needs motivation if he hopes to graduate, Miu's the perfect motivation. KissAnime Review: Kenichi The Mightiest Disciple – fantastic TV series. I accept that my expectations are very low before I see this TV show. This TV show literally has everything. This is a TV series you can watch online with any crowd of people, and everyone will enjoy it at least a little. The soundtrack of these TV show is simple, decieving, full of mischief in its own right. The story is…
Status: Ended
Eps8
Solar Opposites
Solar Opposites
A family of aliens from a much better world must take refuge in middle America after the destruction of their planet. Their mission: protect the Pupa, a living super computer that will one day evolve into its true form, consume them and terraform the Earth. KissAnime Review: Solar Opposites is one of the biggest surprises of the year 2020. The best TV show online? This is an answer that has changed many times in my life and will probably change more often, but for now, Solar Opposites The TV show…
Status: Returning Series
Eps153
Uncle Grandpa
Uncle Grandpa
The adventures of Uncle Grandpa who is out to help every child and adult in the world through the power of imagination. With his mystical R.V. and eternal optimism, Uncle Grandpa is always ready to greet the day – and everyone he meets – with his signature, "Good Mornin'." KissAnime Review: For me, this TV series is one of the best TV series released in the year 2013. comedycategory did not create a better TV show and you can now watch for free on this website. The TV series is…
Status: Ended