Sengoku Basara Season 1 Episode 11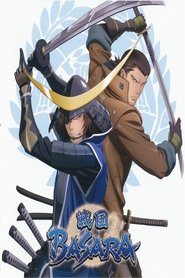 Sengoku Basara Season 1 Episode 11
Oichi is lamenting alone over her brother's deeds. Azai Nagamasa's spirit appears and chastises about her hesitation. But he also encourage her to believe in herself to make a decision about her future action.
Akechi Mitsuhide finally reveals his true, treaturous nature. At Honnō-ji, He eagerly anticipates Oda Nobunaga's fall.
Date soldiers are all depressed after Masamune left them behind in Kai. Suddenly, Katakura Kojūrō comes forth and tell everyone to prepare for battle. At the main gate of Kai stood the soldiers from all fallen factions, forming a single unified force. Led by Kojūrō, they heads to Honnō-ji to support Date Masamune and Sanada Yukimura and stop Oda Nobunaga once and for all.
Once arrived at their destination, Masamune and Yukimura run straight through the front gate and plow through enemy numbers, looking for Oda and Akechi. However, Oda is nowhere to be seen. It is revealed that Oda was never there and this was a trap set to have Mitsuhide and others involved killed, courtesy to Nōhime. Rather very disappointed, Mitsuhide attacks two young generals instead.
At Oda's castle in Azuchi mountain, Oichi is compelled by Nōhime to kill Kasuga who has been captured. However, Kasuaga escapes and takes Oichi with her. Oda stops Nōhime from pursuing them. After parting ways with Oichi, Kasuga gets surrounded by Oda ninjas. Sasuke's whistle comes in handy and Kasuga is able to escape the enemy territory, albeit indignantly.
Mori Ranmaru – who was an observer up to this point – shows up to help Mitsuhide, but easily defeated by Masamune. Mitsuhide proves to be strong. When Yukimura was about to give all he got, Kojūrō intervines and inform them about Oda's whereabouts. He ask them to leave immediately with the army outside and volunteers to face Mitsuhide in their place.
Oichi faces Nōhime one more time at the castle. She wishes to see her brother, but Nōhime wouldn't allow it. A gunshot is heard after.
Episode Title: Mitsuhide's Rebellion! Honnouji Destroyed by Fire!!
Air Date: 2009-06-10
Year: 2009