Sengoku Basara Season 1 Episode 8
0
(No Ratings Yet)
Loading...
Stream in HD
Download in HD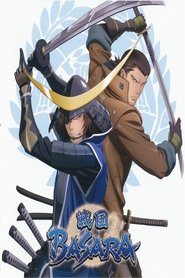 Sengoku Basara Season 1 Episode 8
Matsunaga Hisahide is intrigued by Katakura Koujuro's arrival, and plans to use him in order to force Takeda's hand. Under normal circumstances, Takeda will not lend out the armor for life of foreign soldiers, but this condition changes if Koujuro -the highest ranking vassal of Date army and Masamune's confidant – gets captured and taken hostage. Matsunaga wanted to drive a wedge between two factions. This is his display of contempt toward the will and purpose of Anti-Oda alliance.
Miyoshi Death Squad blocks Koujuro's path, using a special incense which works as slow acting poison. With his strength reduced, Koujuro has hard time fending off his enemies but he overcomes with quick thinking, skill, and sheer willpower. Yukimura and Sasuke arrives at Tōdai-ji some time later. With lingering presence of poison in the air, they worry about Koujuro's current state and follow after him.
Episode Title: The great temple of blood! Kojuuro's desperate situation
Air Date: 2009-05-20
Year: 2009